These resources are have been helpful to me.  I offer these resources along with my deepest empathy. (*please note that some links on this page are affiliate links which provide a small commission to me at no extra cost to you)
Resources for Supporting and Assisting the Suffering (even when that's you!)
It's OK That You're Not Ok – Megan Devine's highly recommended book written to the grieving and to those supporting them. "Pain deserves acknowledgement, not repair. we need to start telling new stories about bravery in the face of pain that can't be fixed." ~ Megan Devine (her website, Refuge in Grief is also a great resource)
When Will My Life Not Suck? Authentic Hope for the Disillusioned  Author Ramon Presson is not only an experienced Christian counselor, he is also personally acquainted with clinical depression, having been hospitalized twice when depression sidelined him. I love his authentic, in-the-trenches, come-alongside-you, (and hilariously funny) approach to dealing with life's hardships. My personal copy has highlighted text on almost every page.
PTSD/Complex-PTSD
Complex PTSD: From Surviving to Thriving by Pete Walker. The author is not only a counselor who is an expert on CPTSD, but he himself has CPTSD as result of childhood abuse. He empathetically presents hope for managing CPTSD.
Post Traumatic Stress Disorder – links on A Cry for Justice Website
No Comfort Zone: Notes on Living with Post Traumatic Stress Disorder  by Maria Handy
Healing from Trauma: A Survivor's Guide to Understanding Your Symptoms and Reclaiming Your Life by Jasmin Lee Cori
Trauma and Recovery: The Aftermath of Violence — From Domestic Abuse to Political Terror by Judith Herman. A classic.
 Domestic Violence/Abuse
Why Does He Do That? Inside the Minds of Angry and Controlling Men by Lundy Bancroft
This was the first book that I read which revealed to me the severity of the situation that the children and I were living in.  It was eye-opening without making me feel condemned. Lundy Bancroft was for many years the co director of Emerge, the nation's first program for abusive men.  He "gets" how abusive men think and act.  If you only read one book about abuse and DV, read this one.
A Cry for Justice – Awakening the Evangelical Church to Domestic Violence and Abuse in its Midst. This has been the most helpful website that I have found.  A tremendous amount of thoughtful information from a Biblical perspective.
Understanding Domestic Abuse – a huge number of helpful links from the Cry for Justice Website.  Highly recommended!
"The Bible Does Allow Divorce for Domestic Abuse" ~ an informative article by Barbara Roberts, who now blogs at A Cry for Justice (above).
How to Recognise True and False Contrition by Dr. George Simon, Jr.
Leaving an Abuser – What to Expect and How to Stay Grounded by Cindy Burrell
But He Never Hit Me: A Christian Primer on Emotional Abuse by Jenny Rae Armstrong
10 Warning Signs of Word Salad Psychopath Free Website
Has God Abandoned Me? For Women Facing Domestic Violence an excellent download
Aphrodite Wounded – Information on Intimate Partner Sexual Violence (IPSV)
Pandora's Project – Support and Resources for Survivors of Rape and Sexual Abuse
Manipulative People – Dr. George Simon's blog. Author of In Sheeps Clothing, Character Disturbance, and The Judas Syndrome: Why Good People Do Awful Things. Dr. Simon regularly posts insightful and thought-provoking articles on his blog.
Hidden Hurt – Domestic Abuse information, based in the UK. I recently found this site and was impressed by the content.
Real Rape, Real Pain by Patricia Easteal – Help for women sexually assaulted by male partners
Resurrection after Rape by Matt Atkinson
This book is also available as a free PDF download from the author's website.
Spiritual Abuse
Under Much Grace – Resources for Recovery from Spiritual Abuse
Recovering Grace – help and support for those recovering from Bill Gothard's ATI or IBLP teaching
Spiritual Sounding Board – a blog offering support for those recovering from abusive conservative and reformed churches
The Wartburg Watch – A regularly updated site taking an unflinching look at "church conflict, spiritual abuse, and hyper-authoritarian polity."
G.R.A.C.E. – Godly Response to Abuse in a Christian Environment. Started by a grandson of Billy Graham, this phenomenal organization offers advocacy, investigation, and education about religiously-based child sexual abuse.
No Longer Quivering – Information, survivor stories and news on the evangelical fundamentalist Quiverfull movement.
Kathryn Joyce – Author of books on Quiverfull, Evangelical adoptions and many other subjects on fundamentalist Christianity.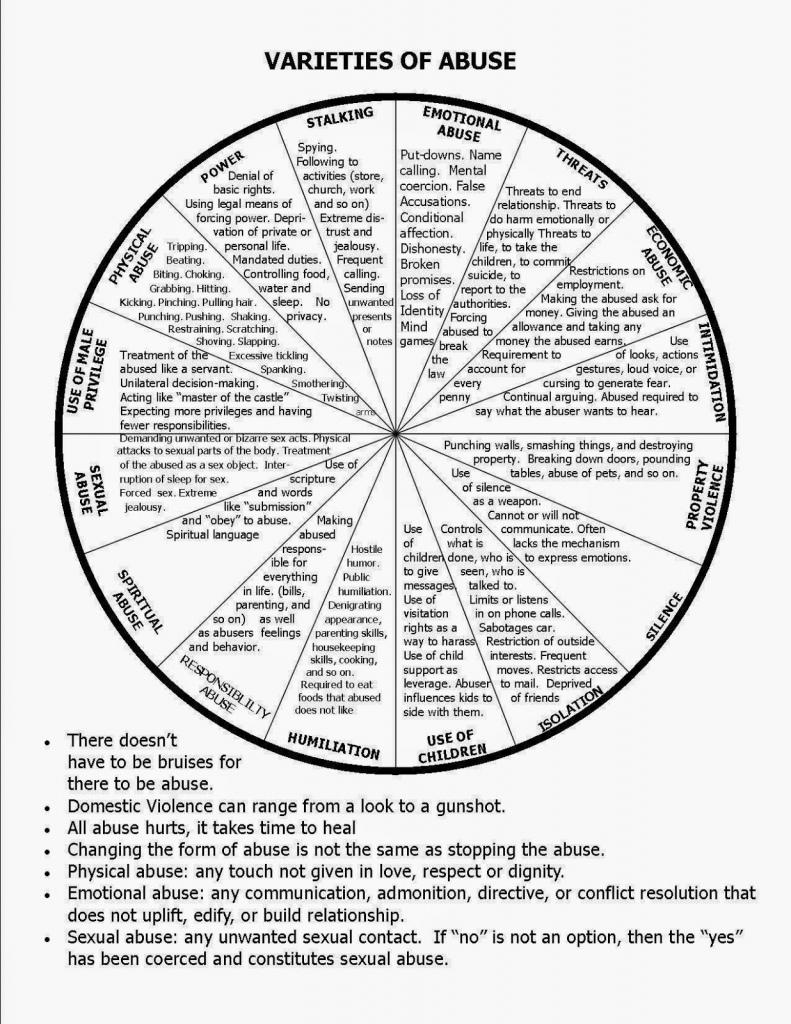 I have misplaced the original link to credit the source.  Anyone know who to attribute this to?