I've been thinking about the post I wrote recently, "What worked for me in 2015" and the more I thought about it, I realized that, while what I wrote it true ~ those things did "work" for me in 2015 ~ the whole story is much more complex than that.
Perhaps you have read the story of Moses in the Bible. As Moses lead the Israelites out of bondage, into the Promised Land, Amalek came against them and fought Israel. Moses stood on a hill, overlooking the battlefield.
So it came about when Moses held his hand up, that Israel prevailed, and when he let his hand down, Amelek prevailed. But Moses' hands were heavy. Then they took a stone and put it under him, and he sat on it and Aaron and Hur supported his hands, one on one side and one on the other. Thus his hands were steady until the sun set. So Joshua overwhelmed Amelek and his people with the edge of the sword." Exodus 18:11-13
The past three years have worn me out and flattened me in ways that I can't even begin to describe here. That post about Those things that "worked" for me in 2015? Yeah, well none of those things would have happened without a tremendous amount of "propping up" by my family and friends. Sometimes it wasn't just my arms that needed propping, I needed friends to come alongside me and pick me up ~ I was totally out of emotional energy and hope.
Last year was a tremendous struggle for me. I could barely get out of bed many days. I did get up every day though. I kept putting one foot in front of the other. The reason I did? My family, and the few faithful friends who have been willing to stick with me during this very dark time in my life.
Feeling hopeless and overwhelmed is a terrible place to be.
"Propping someone up" isn't "fixing" their problems. No. If you have lived long enough, you know that there are many, many problems that can't be "fixed," they can only be born, carried. I am living in the midst of some terrible problems that simply don't have neat solutions. Perhaps you are as well?
The friends who stuck with me so faithfully during the past 3 years as my world fell apart in ways that I never could have anticipated all have one thing in common: empathy.
In this short video, Brene Brown explains empathy in a way that you won't soon forget. It's only 2 and a half minutes long ~ well worth your time.
That empathetic "coming alongside" from my friends and family has looked like this for me:
text messages and even snail mail notes, reminding me that I am not forgotten, that I am being prayed for.
a wordless hug from a good friend
listening to me without judgement and without trying to "fix" things
my children, loving and supporting me, going out of their way to make me laugh
anonymous gifts, both financial and of practical things like groceries. Of course I been tremendously grateful for the help, but in many ways those things mean more to me because they remind me that the lie "I'm alone" simply isn't true.
My good friends have held onto hope for me, when I couldn't. I've allowed them to hold it, and have trusted them when they've told me, "Susan, it won't always be this way."
My church family has been tremendously supportive, even though I've been unable to be involved there in any significant way. They have faithfully prayed for us and have come alongside my family and me and gifted us with large quantities of groceries (just this past Christmas), and even meals at times when I couldn't cook due to unexpected surgeries.
Empathetic friends and family have faithfully prayed for us, even when I was unable to pray.
My parents have empathetically supported me in too many ways to list here. I couldn't have escaped my abusive marriage or stayed gone without their loving help.
My pastor and his wife have taken time from their busy schedule to support me in driving all the way downtown to attend court dates with me… not just once, but numerous times.
Older children have volunteered to take the younger boys on outings so that I could have a nap or even a bit of quiet time alone.
My teen boys have even created a workout playlist for me on Spotify. They add music to it that they think I'd enjoy, or might make me laugh. I put that playlist on shuffle when I go for a long bike ride or run and I never know exactly what will play next. It's hilarious.
I am safe with my empathetic friends. There have been times that I've been so overwhelmed by circumstances that I've been unable to even speak. I have a good friend who has been willing to simply be with me in those times.
I vividly remember my shock the first time my good friend cried with me. After living in a marriage totally devoid of true empathy for 27 years, I had a very hard time grasping that someone would really care so much about how I felt.
So that post that I wrote about things that worked for me in 2015? I never could have written that without being supported and even carried by my empathetic friends and family.
I honestly don't think that I'd be here today without them. A mere "thank you" hardly covers my deep gratitude.
If you, like me, have spent way more time in a dark pit than you'd like, my prayer for you is that the Lord will provide truly empathetic friends who will climb down into the pit and simply be with you. There is no greater gift.
If you aren't battling discouragement now, perhaps you have a friend who is. Small bits of empathy can buoy a drowning person more than you can ever know.
And if you have a cute, 100% empathetic corgi as well? Then you are truly blessed indeed.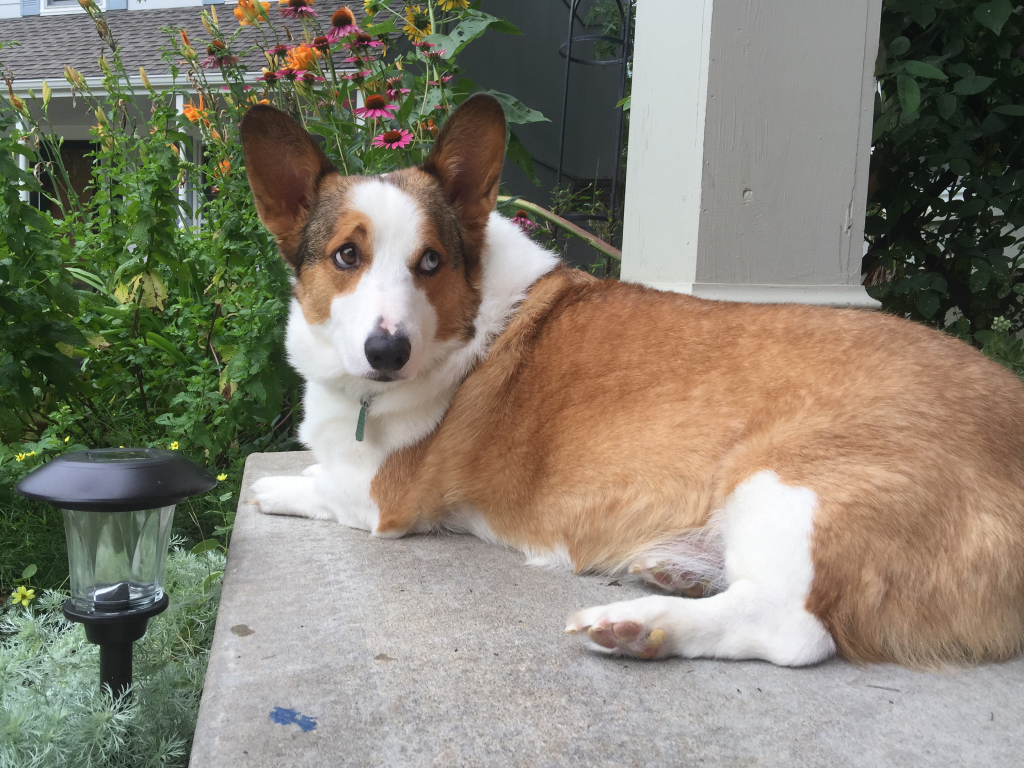 How have your friends come alongside you and shown empathy? I'd love to hear.