A week ago I made the tough decision to pull of of IronMan Wisconsin. Many of my readers know that I've been training hard for this race for a year now. (An IronMan race is a 2.4 mi swim, 112 mi bike and a "little" 26.2 mi marathon run to finish it off)
And I was *so* close! Only 5 weeks out from racing.
That's right; I quit.
Why on earth would I made the decision to quit and bail out on this race when I was so close to accomplishing a huge goal?
And, more importantly, is it ever okay to be "a quitter"?
IronMan Racine
On July 17, two of my boys and a triathlon friend and I drove to Racine Wisconsin to participate in a half-IronMan race. (My boys weren't participating; they went along to cheer and enjoy the scenic getaway).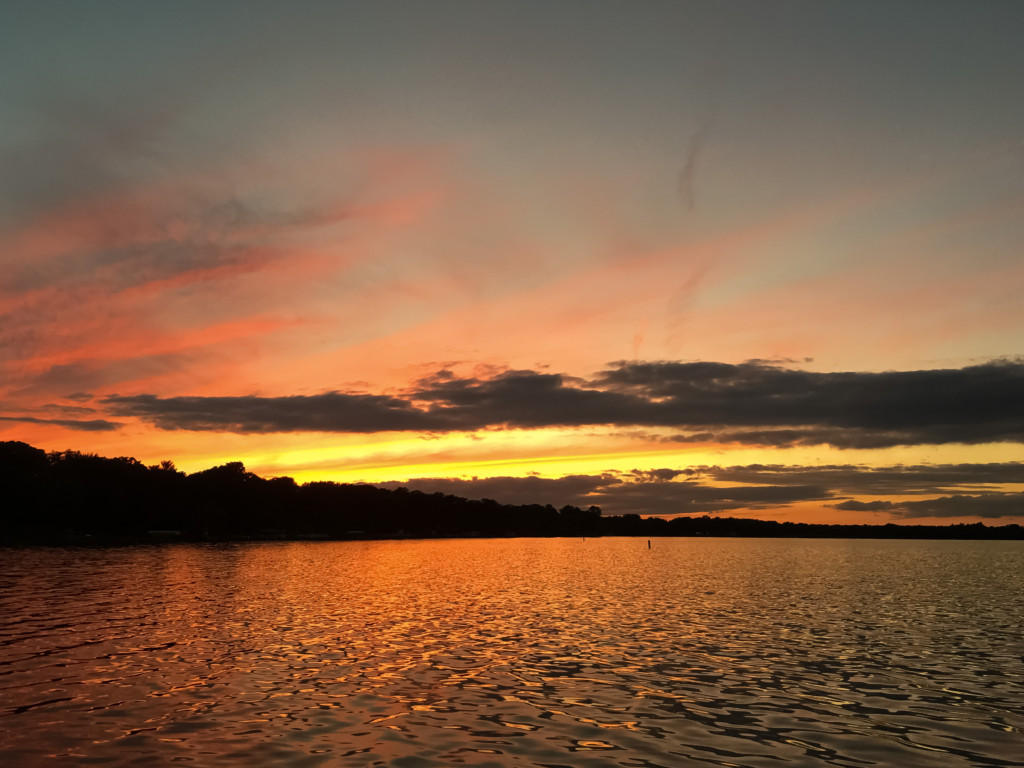 And wow! Wisconsin is beautiful. I wish I would have photographed more of the iconic red barns and beautiful countryside.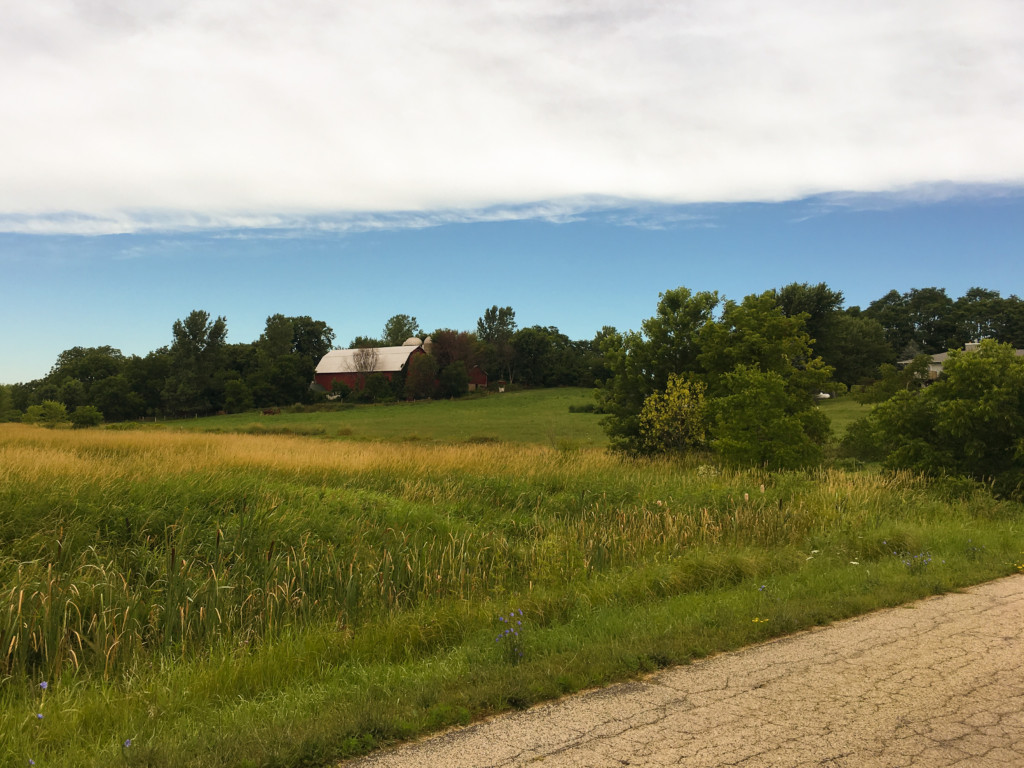 On the Saturday before the race I was able to swim in Lake Michigan. I had no idea that Lake Michigan was *so* gorgeous! Crystal-clear water. I'm sure that the ripply sandy bottom I could see was 15-20 feet below me. The beaches were so clean and pristine. No seaweed, washed up jellyfish or other trash anywhere to be seen, unlike other ocean beaches that I've visited.
The weather that day was idilic. There were sailboats ~ so many sailboats dancing in the water, and many, many people enjoying the beach.
There's weren't, however, a lot of people swimming. That is some *cold* water ~ 58 degrees, to be exact, even in July! I was wearing a wetsuit though, so it was all good. Swimming in a wetsuit is so fun. Not only does it insulate you from the cold water, but wetsuits are very buoyant! I'm like a cork bobbing along in my wetsuit. Not a particularly fast cork, mind you, more of a steady persistent one.
That was the good part of our trip.
A glowing red sunrise greeted us on race day morning. The old adage "red in the morning, sailors take warning" proved true.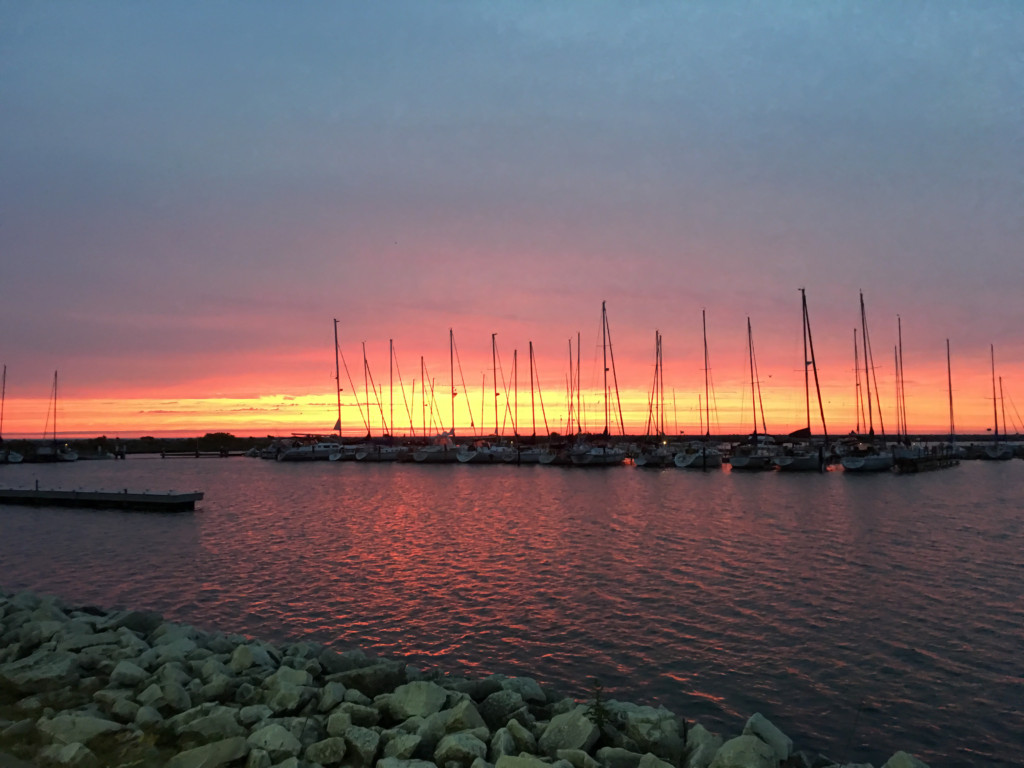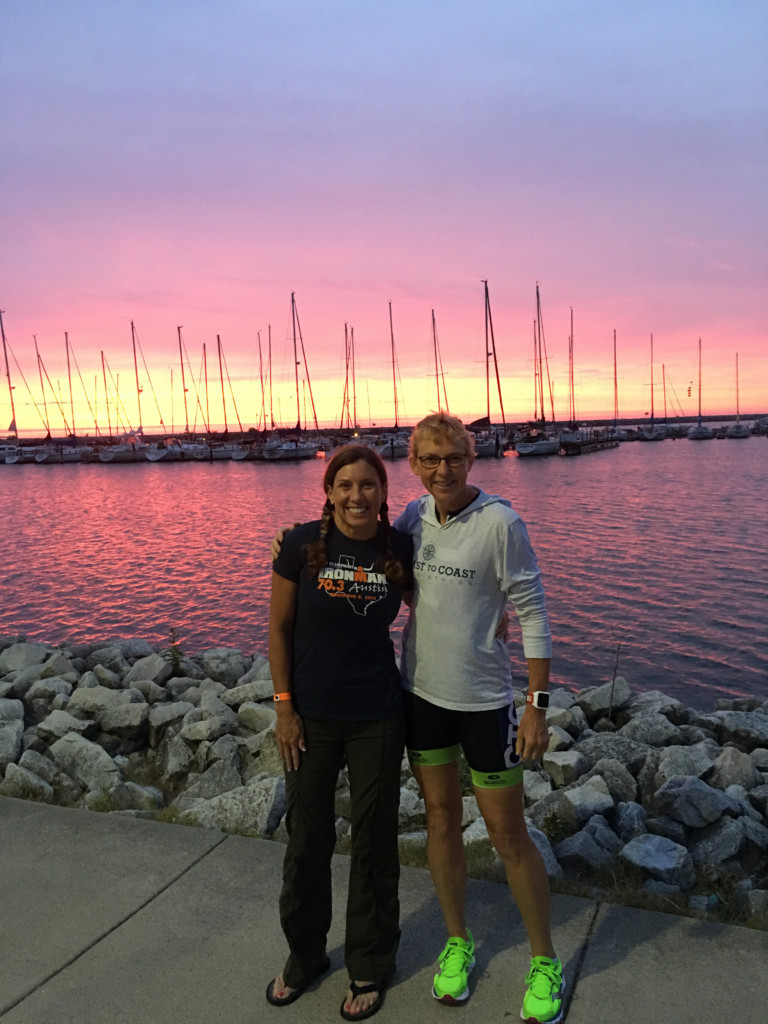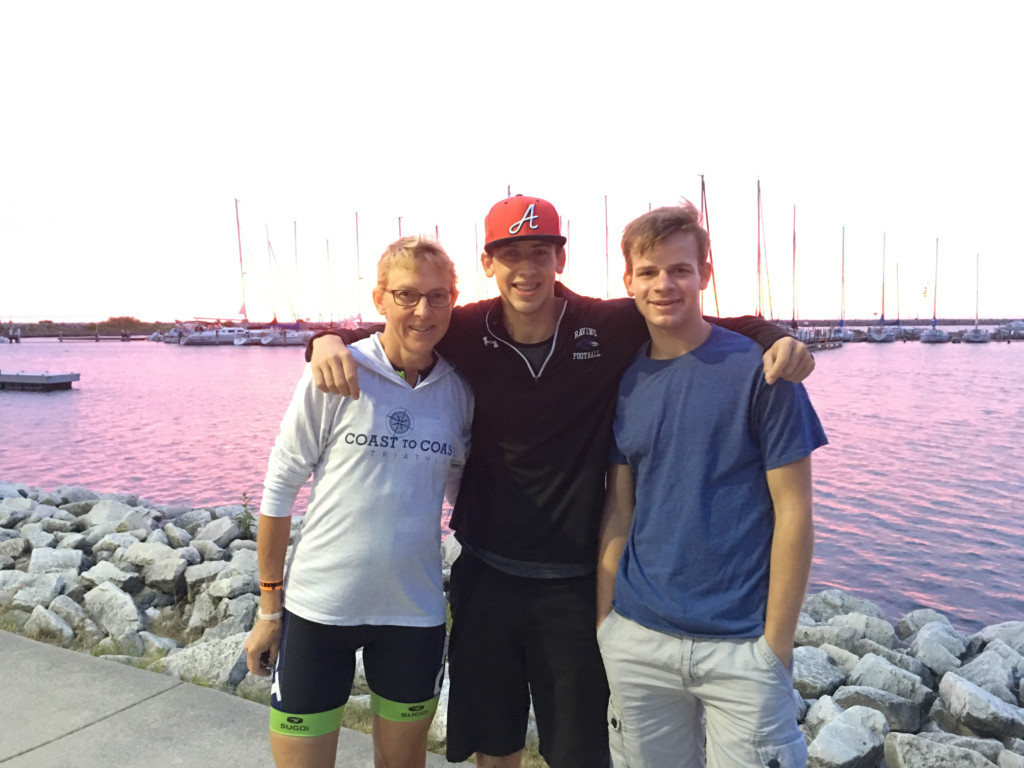 The large thunderstorm which the sunrise foretold canceled the swim portion of the race and delayed the start of the shortened bike ride until 10:30.
I began riding my bike almost four hours after the scheduled start of the race! The photo below is a good example of the fact that you can't always tell, just by looking, how someone is doing. I don't really look like I'm battling extreme panic here, do I?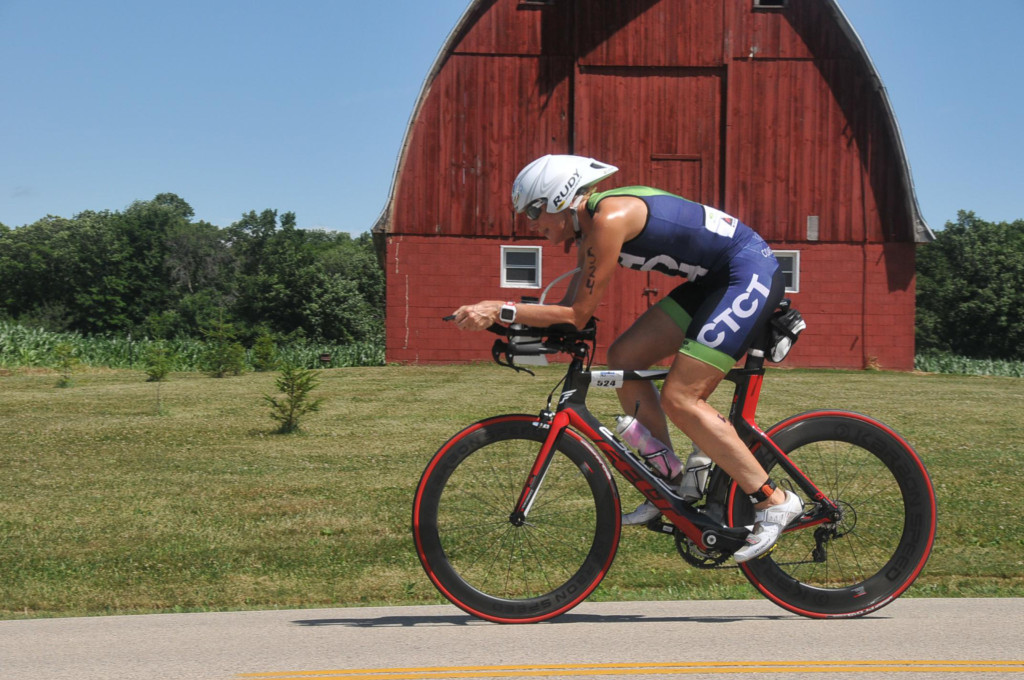 The delayed race start included time stuck in crowds which was tremendously overwhelming for me. I was able to complete the race, but after dealing with high levels of panic on both the bike and run portions of the race, by the time I ran down the finisher's chute, I was fighting tears and barely able to speak.
That's how complex-PTSD frequently manifests itself in my life. Any situation where I feel trapped or out of control is a huge potential trigger.
I have always loved triathlon training, but due to my panicky response around crowds, racing has never been fun for me. The race in Racine was by far the worst for me.
I returned home from Racine, trained hard for three weeks and then reluctantly made the tough decision to pull out of IronMan Wisconsin.
Why I Pulled Out
Ever since I was forced to take my children and flee my 27 year long abusive marriage, I have tried to evaluate the activities that I choose for myself through this filter: "Does this activity help me be more available for my children, and does it help me emotionally?"
Up until I participated in Racine, in reference to triathlon, the answer was a definite "yes" to both of those questions. However, since Racine it has increasingly become a big "No."
When I returned home from Racine, my triathlon training became more and more challenging, and I am not referring to the workload.
I had been having PTSD-related panic attacks both while swimming and running in training. In the weeks following Racing those were becoming more and more frequent.
In the past I have almost always looked forward to my workouts, even the long hard ones but after Racine I found myself dreading each workout, not knowing when, exactly, I'd be ambushed by overwhelming panic.
Additionally, every time I thought about participating in IM Wisconsin and the PTSD panic that I always have to battle in large crowds, I felt physically sick.
This past January I had surgery to repair a torn lateral meniscus in my right knee. Once I finally got past the long rehabilitation period, my knee did pretty well with training, in spite of the significant arthritis that was found in that knee during surgery. After running the half-marathon in Racine my knee decided that it had had enough though. Every time I ran after that race my knee would swell, become very painful and I began to lose range of motion in it too.
I saw my orthopedic doctor last week. The swelling in my knee is almost certainly related to arthritis and it is also possible that I have torn my meniscus again.
The swelling and pain in my knee became the deciding factor that forced me to step back and objectively evaluate my reasons for continuing to pursue my IronMan goal.
I am not willing to risk further damage to my knee to participate in a race that I am already dreading, from an emotional standpoint.
Here's the thing: Triathlon training and racing have never been the end goal for me like they are for many people. They have always been a means to an end ~ a way for me to manage Complex-PTSD symptoms in a healthy way so that I can be more available for my children.
When training for triathlons and participating in races stopped playing that role in my life, I knew that it was time to quit, even if it was 5 weeks out from the biggest race of my life; an endurance event that many people only dream of doing.
I had faithfully invested the time, never skipping workouts and have trained so hard for this. I was ready to take on an IronMan from an endurance perspective. Emotionally, however, I could not have handled the crowds and race stress. I know, especially after how hard Racine was on me, that while I might have been able to force myself to do it, the emotional fallout would have been too great.
My uncooperative knee sealed the deal.
My very life is an endurance event right now. I'm in the thick of some of the hardest stuff I've had to deal with yet. One of my adult children is in the midst of an ongoing mental health crisis situation, and that's just one of the challenges in my personal life right now. It's beyond hard.
I am not willing to continue any activities that will compromise my ability to help my children and my family.
Could I have "gutted out" the last 5 weeks of training and completed the race? I'm pretty sure that I could have. I figured my times for each event and I would have had time to walk the whole marathon before the cut-off time at IM Wisconsin, if I needed to. If I continued to love training and if my knee wasn't swelling, and if I didn't have overwhelming personal situations that I'm handling right now and if racing didn't trigger my PTSD, then, yes, absolutely I could do it!
Right now though, I need to only participate in activities that are helping me take care of my family, not ones that are sidelining me emotionally (and now physically too).
Will I be sad on Sept 11, the day of IronMan Wisconsin? Maybe a little. But right now my family and my own mental and physical health need to be my priority.
I recently came across this quote, and I thought it was so applicable to me and my situation right now:
"Some people believe holding on and hanging in there are signs of great strength. However, there are times when it takes much more strength to know when to let go and then do it." ~ Ann Landers
Why Quitting isn't a Dirty Word
Some of us struggle with lack of commitment, and some of us don't know when to quit. Can you guess which group I fall in? (Hint: I stayed for 27 years in an abusive marriage, desperately trying to make it "work")
I'm sharing this to encourage you to consider quitting. In spite of what Olympic athletes will tell you, quitting isn't always a dirty word.
Are you in a situation that was, perhaps, initially beneficial but is now sucking the life out of you?
I am here today giving you permission to quit and do what is best for you and perhaps, for your family, with no shame.
Not everyone will support your decision. Both when I left my abusive ex-husband, and now, as I have announced that I'm pulling out of my IronMan race, I have had a few people that I care about very much respond in ways that are tremendously unsympathetic and hurtful.
Their response doesn't change the "rightness" of my decision, in either situation though.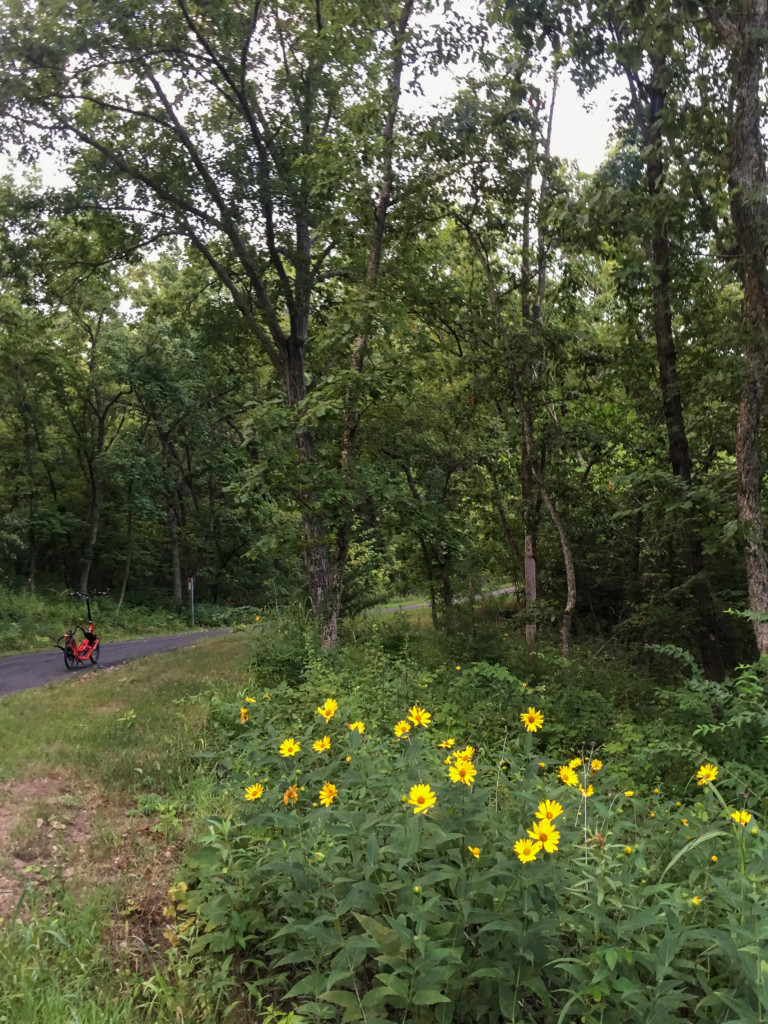 I've officially stopped training for my IronMan race, and I probably won't ever run again (I have no desire to get in line for an early knee replacement), but I still train each day in ways that help me battle stress and deal with my PTSD. When I ride my ElliptiGO on the beautiful paved nature trails here and listen to praise and worship music, my very soul thanks me for the decision I made to quit.
If we don't purposefully say "no" to things that don't line up with our deepest values, then we won't be able to say "yes" to the things that matter most to us.
Four years ago I found myself in so much pain emotionally and physically that I finally chose to say "no more" to staying in an abusive marriage. I quit, and even though it was the hardest, and most painful decision I'd ever made, quitting was a winning and life-giving choice for both my children and myself.
Now I am choosing to quit training for triathlons. While it is sad to abruptly stop something that I've been so committed to, and have enjoyed so much in the past, it has already been a life-giving choice for both my children and myself.
There are no gold medals given out for quitting, but sometimes I think there should be. Sometimes quitting is the hardest and best thing to do.
How about you? Is there something in your life that you need to quit? Quitting doesn't always mean defeat. Sometimes quitting helps you win, even if you don't receive a medal for it.
ps- If this topic hits home with you, I think you'll love Shauna Niequist's new book: Present Over Perfect: Leaving Behind Frantic For a Simpler, More Soulful Way of Living